Celebrating Women
By Angel Orenstein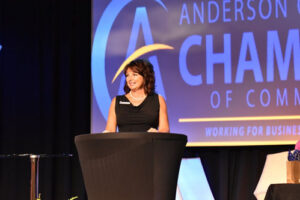 On a hot summer day, the ladies of Catawba Corporations donned their face masks, a string of pearls, and headed to Clinton, TN for the inaugural Purses and Pearls event. There, in a hall lined with fabulous purses and other auction items from local businesses, female business leaders met to honor the centennial of women's suffrage and discuss their experiences. Attendees dressed up to honor the occasion in the traditional suffrage colors of gold and purple. Most expressed their gratitude at the opportunity to meet in person, even with the limited capacity and required public safety measures.  
After a delicious lunch provided by the local catering company Hannah's Inc and some socially distanced networking the audience settled in for to hear from the keynote speaker Dr. Shirley Raines.
What's in your purse?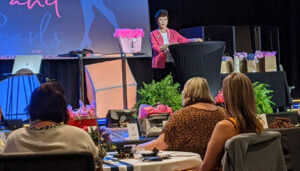 ​Having worked her way from a kindergarten teacher to the President of the University of Memphis, Dr. Shirley Raines possess a wealth of knowledge about the skills women can bring to the table in a professional environment. To illustrate her journey Dr. Raines brought on stage a fuzzy pink purse full of precious items, each representing and attribute a leader need.  
​Using her props as effectively as a pneumonic device Dr. Raines talked about how leaders must remember what brought them to their position and always remember that there's room for improvement. She made the audience laugh while still giving them a lot to think about. Every woman in the audience, no matter their position within their organization, could relate to the transition from purse to briefcase Dr. Raines presented.