New Regional Office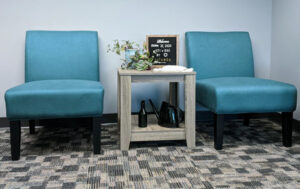 Catawba Corporations is already moving to expand their base of operations. The company's headquarters will remain on the tribe's reservation in Rock Hill, South Carolina, but a new regional office will expand Catawba Corporations' reach into the government contracting arena.
Oak Ridge, Tennessee has been a center of industry for government operations since the early days of the Manhattan project. As the current home to Oak Ridge National Laboratory and the Y-12 National Security Complex, this small city offers a wealth of opportunities for Catawba Corporations.
Tammy Pressnell, Catawba Corporations Chief of Operations, has deep roots in the area will no doubt help the company grow with her extensive background in the industry. The Tennessee based office will house support staff for a variety of projects and proposals in the area. A formal grand opening is planned for the spring of 2021, depending on the state of the Covid-19 outbreak as it relates to the safety of guests and employees.
Biophilic Design
Catawba Corporations chose to include a lot of greenery in the new office space. The plants will improve air quality and increase happiness, both ways that a company can ensure the health and wellbeing of their employees.
Corporate Hygge
The Oak Ridge Office blends comfort and style with the Catawba Corporations Brand to create a unique work environment.
It's no secret that 2020 was the year of working from home. Previously the main trend in offices centered around on-site benefits. Companies like Google and Facebook drove the movement to include on site restaurants, ping pong tables, and open office floor plans. Everything changed with the global pandemic, and Catawba Corporations decided to incorporate a different approach to their newest office space. Rather than focus on add-ins to make the office appealing, Marketing Specialist Angel Orenstein decided to help the office compete with the comforts of home.
To help make the office a home away from home it was important to focus on function. "Working from home has been wonderful in some ways, but challenging in others," says Orenstein. "I think that the return to the office will be driven by a need for deep focus time and team projects, so we needed to prioritize features that facilitated those needs." Spaces for collaboration, relaxation, and focus are all incorporated in the Oak Ridge Office, along with a design style closer to a high-end loft than an office. "I wanted the office to feel cozy, like a second home, so we used design trends typically seen in the home to achieve that. By prioritizing comfort, I believe people will seek the office as a place of escape rather than a necessity."