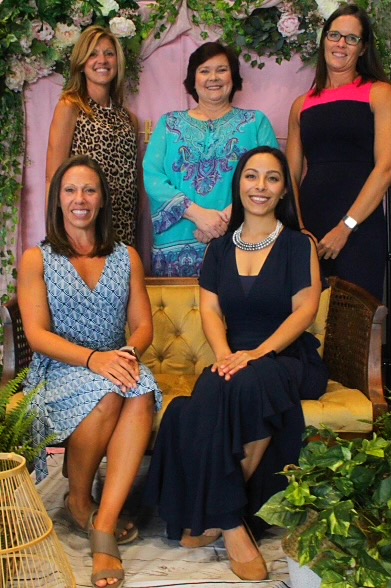 The ongoing pandemic has certainly caused many industries to struggle, but the non-profit sector was hit especially hard. Without in person events, many organizations have struggled to raise much needed money for their cause. So, when it came time for the Anderson County Chamber of Commerce Purses and Pearls Committee to pick a charity, they wanted to select a truly worthwhile cause. Together they selected Isaiah 117 House and began several months of planning that culminated on a rainy Tuesday afternoon. As a representative of Catawba Corporations, Angel Orenstein, along with her fellow committee members, met at Faith Promise in Anderson County to unpack the 26 donated items and set up for the next day's event. They anticipated the need for gift bags, handy cards describing each donated item, and even a photo booth for attendees. However, they did not anticipate that this event would move so many people to open their hearts and checkbooks for such a worthy cause.
Pictured:
Top Three from L to R: Miranda Goss, Debra Markelonis and Lindsay Dillon
Bottom Two from L to R: LeAnne Rogers and Angel Orenstein
The Venue
The venue looked immaculate! The decorating committee had knocked it out of the park with their centerpieces and satin table runners.By 11:30 attendees streamed into the venue smiling and greeting one another, some for the first time in over a year. Attendees slowly migrated towards their tables. As an event sponsor Catawba Corporations was fortunate to have their own table in accordance with social distancing protocols. Our lovely ladies were all smiles as they chatted and discussed which purses they planned to bid on.
The program started with some door prizes, hoping to get the energy in the room up in anticipation of the live auction at the end of the lunch. Tammy Gross gave away several gift packs and certificates donated by businesses in Anderson County to excited winners before introducing the Presenting Sponsor, Kimball's Jewelers. Danny Overbey, owner of Kimball's Jewelers, spoke briefly about his decision to support Isaiah 117 House and the Anderson County Chamber of Commerce. Next up, Lori Tucker of WATE News took the mic to speak, engaging the crowd as only a professional like her could! Everyone seemed to be moved by the story of Isaiah 117 House. Then, Ronda Paulson, founder of Isaiah 117 House, took the stage.
As an adopted child myself, I was touched by her [Ronda Paulson] enthusiasm.

Angel Orenstein, Marketing Director at Catawba Corporations
Ronda's Story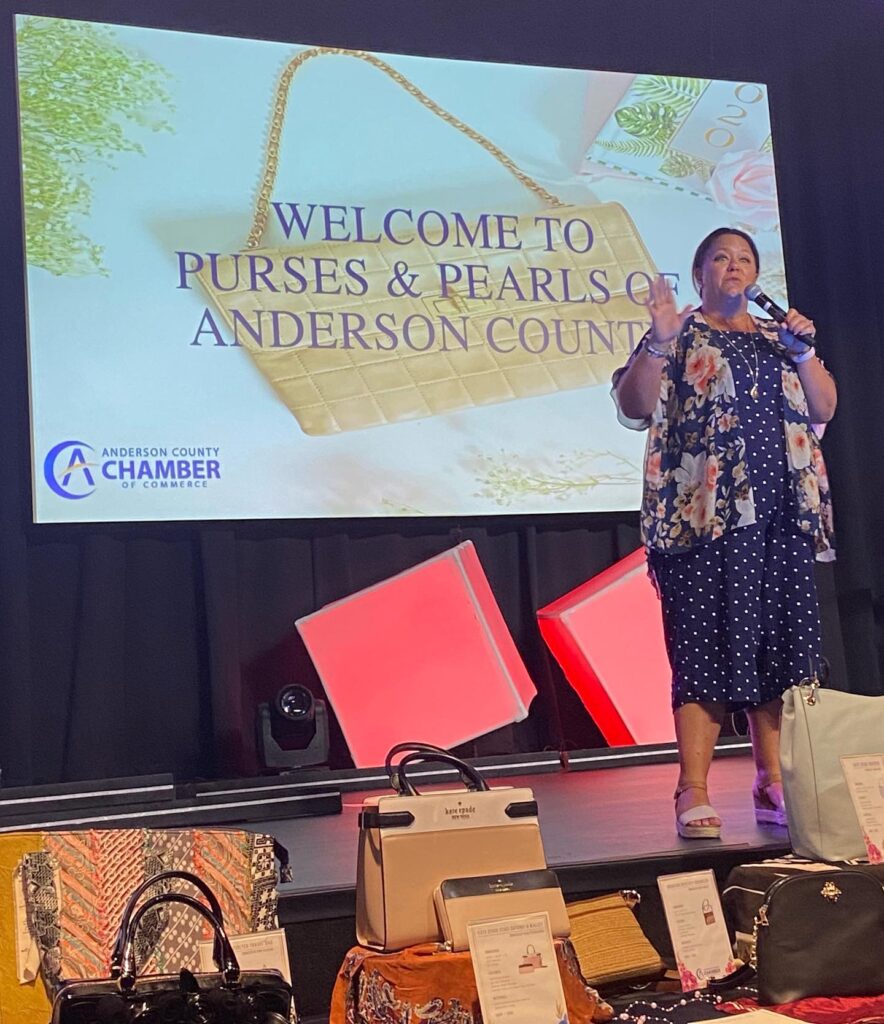 The story of Isaiah 117 House began in 2014, but really even further back than that. A devout Christian, Ronda stated that she always felt called to adopt. Angel Orenstein says, "As an adopted child myself, I was touched by her enthusiasm. Adoption is not always easy but can be incredibly rewarding for both the parent and child." She talked at length about her struggle to get her family on board. After several children of their own, Ronda learned about foster care and felt that this might be a way to answer her calling. The descriptions of her tricking her husband into attending foster care classes left the audience laughing heartily. Then she talked about the reality of foster care. The room was silent as she described the conditions in which children entering the foster care system must live. Their belongings are stored in garbage bags after being removed from the only home they've ever known. They are taken to the local Social Services office and have no choice but to sleep in offices or on conference room floors. Ronda talked about how even as adults these people still remember that horrific experience. Then, sometimes after days of living in an office with no shower or clean bed, they leave to be placed with foster homes scared, tired, and exhausted.
Founding Isaiah 117 House
Ronda knew this all firsthand because her first foster son, Isaiah, was only 9 months old when he found her. Dressed in a onesie that was too small and recently bathed in a drug testing sink, Isaiah and his only physical belonging in the world, a roach infested diaper bag, came into the Paulson's lives and forever changed it. That started Ronda on her journey to found Isaiah 117 House. Now, seven years later, they've built multiple homes in East Tennessee with plans for many more and requests pouring in from all across the country! At Isaiah 117 House children are greeted with love, a comfortable bed, and any essentials they need to start their new lives. Case workers are welcome and have dedicated office spaces, new foster parents are offered support and supplies, and the kids have space to play while they deal with having their lives turned upside down.
By the end of her speech there was not a dry eye in the room. Ronda's story moved all the attendees, and inspired our own Angel Orenstein to get involved. Over the next half hour purses were auctioned off. Thousands of dollars were raised toward the Anderson County Isaiah 117 House.
I'm incredibly proud of my work with Catawba Corporations, and even more proud that we as a company chose to support this amazing event! It's an honor to work for a company that wants to make our community a better place, and I look forward to being a tiny part of that work. I hope you will consider donating to Isaiah 117 House.

Angel Orenstein
If you would like to know more about Isaiah 117 House or donate, please visit their website here.